CNC Bending Machine for Metal Sheet Bending
CNC Press Brake machine is a sophisticated equipment used for bending metal sheets. It utilizes computer numerical control (CNC) technology to precisely control the bending process. Oil-electric hybrid CNC bending machine is equipped with hydraulic and electric servo systems that exert pressure on the metal sheet, allowing it to be accurately bent into desired shapes and angles.
Sheet metal bending is the manufacturing method utilized to shape the majority of enclosures, electrical boxes, brackets, and components using a machining device referred to as a CNC press brake. CNC metal bending machines offer high precision, repeatability, and efficiency in metal sheet bending operations. With their advanced technology, these numerical control bending system can handle a wide range of sheet metal materials and thicknesses, providing flexibility and versatility in the bending process.
Features:
1. Machine Performance
a. The machine structure is meticulously designed through finite element optimization, ensuring high strength and rigidity during its operation.
b. Compared to traditional CNC press brakes, we have increased the fluid flow and oil pump output, along with optimizing the cylinder area ratio. This results in a 25% enhancement in Y-axis motion frequency compared to mainstream bending machines in the market.
c. We employ high-frequency responsive proportional valves to guarantee the machine's high stability and precision when operating at high speeds.
d. Paired with more logically designed parameters such as enclosed height, throat depth, inner stop distance, and slider stroke, our machine offers improvements over mainstream bending machines. This facilitates bending and handling of large, complex workpieces without the need for additional costs.
e. Our brand-new series boasts an industrial design with clean, practical lines that incorporate modern design elements. It sets the trend for market demands.
2. Machine Frame Structure
a. The machine frame is constructed from welded steel plates, ensuring optimal overall load-bearing capabilities.
b. Vibration aging treatment is employed to eliminate internal stresses within the frame, preventing deformation after machining.
c. The machine frame undergoes integrated processing using a CNC five-axis machining center, allowing for a one-time clamping operation that guarantees precision throughout the frame's various processes.
d. The C-type throat compensation device is installed beneath the machine frame's throat and connected to the detection system above. This setup ensures that minor deformations occurring during machine bending operations do not affect the system's measurement accuracy, guaranteeing accuracy for materials of any thickness and composition.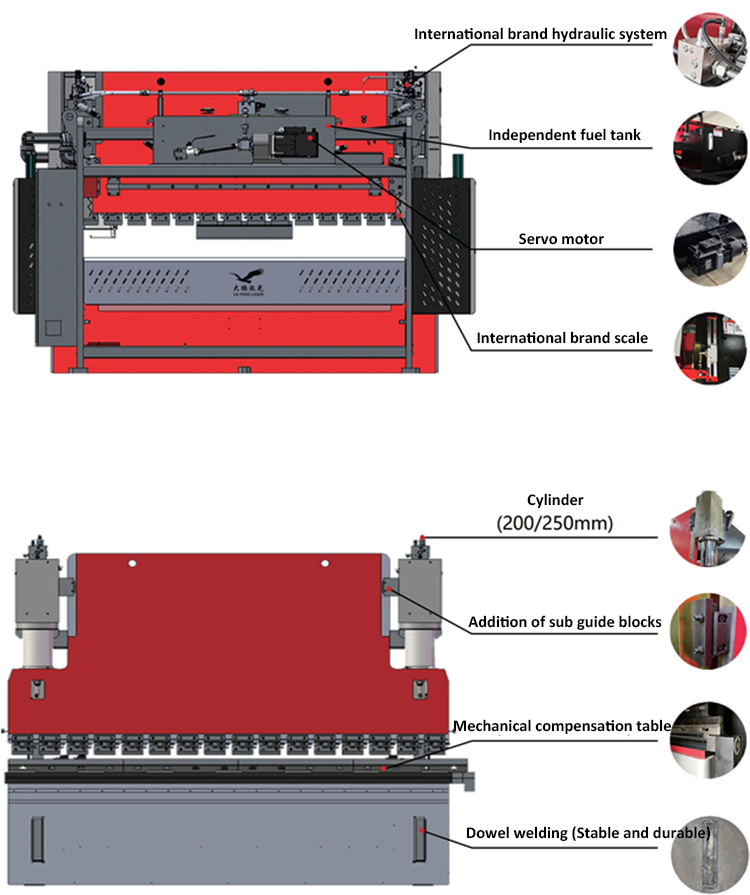 3. Hydraulic System
a. We employ a closed-loop electric-hydraulic servo system for dual-cylinder synchronization control. This high-precision synchronization control ensures superior bending accuracy and repeatability in positioning.
b. Our integrated hydraulic control system minimizes the need for complex piping installations, eliminating the risk of oil leaks. This enhancement significantly improves the machine's operational stability while maintaining a clean and aesthetically pleasing exterior.
4. Backgauge System (Dual Guideways, X-axis, R-axis, Z-axis)
a. The backgauge system offers rapid speed and high positioning precision.
b. Featuring a fully functional backgauge mechanism, it can be expanded to 6+1 axis (including Z-axis). Utilizing a dual guideway structure minimizes backgauge jitter, improves stability, and effectively controls collisions, enhancing the overall efficiency of product utilization.
5. Clamping and Tooling Configuration
a. Equipped with a manual quick clamp, this system offers the advantages of high precision, easy clamping, no loosening, and tool retention, minimizing interference with workpieces, especially when bending at small angles.
b. Optional hydraulic upper die automatic clamping or quick clamping devices are available, reducing labor intensity for workers and enhancing production efficiency.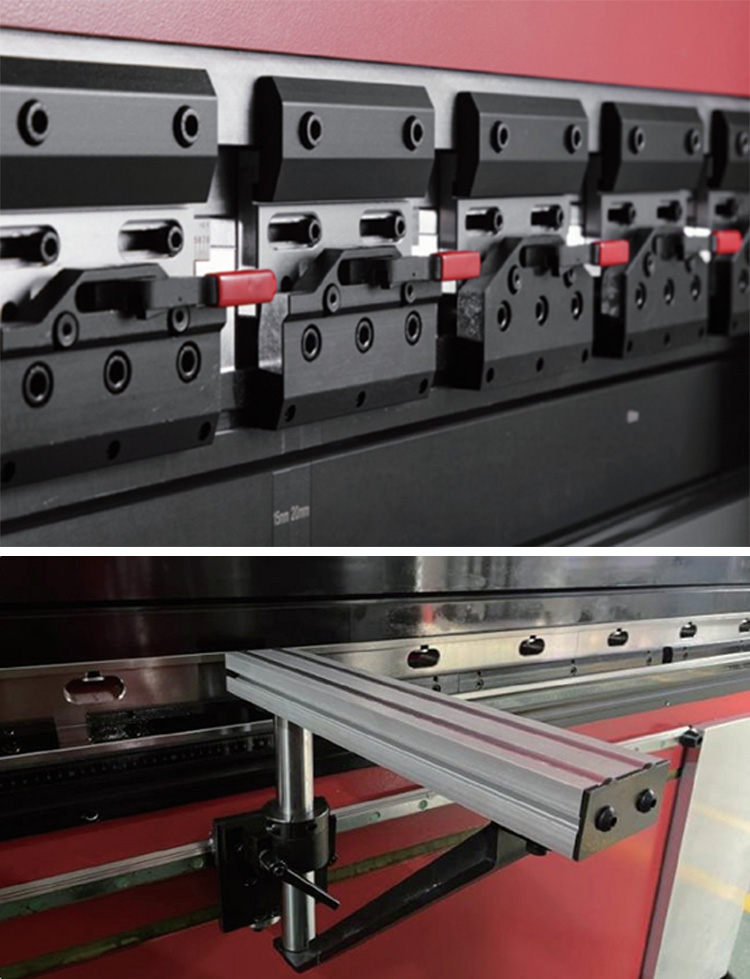 6. Other Configurations
a. Rotating Front Material Support
Standard equipment includes two material supports that can be adjusted at intervals and feature a rotating function, helping to avoid interference with workpieces during bending.
Optional CNC system
Dapeng RAGOS 15-inch (standard)

Model configuration: LT15

Dapeng self-developed CNC system
Can realize Spoke/Tillam, the operator interface any switching
High-definition 15-inch color display
Can realize the enterprise digital management software link
Can be adapted to 4-8 axes
Can realize the graphic code scanning function, 2D/3D image display

Dapeng RAGOS12/15 inch

Model Options: TY-12 and TY-15

Japanese Bending Machine Control System
Co-developed by Peng and NADIC Corporation of Japan
High-definition 15-inch color display screen
Allows for integration with digital management software for businesses
Features a drawing scanning function for 2D/3D graphic display
Adaptable for 4-8-axis control, with manual and automatic bending program simulation capabilities
Comes with a built-in handwheel device for easy adjustment and debugging.

Swiss Schenck CYBELEC

Model Options: CT-8, CT-12, CT-15

Simplified interface with a clear, large-sized, high-contrast touchscreen display
USB interface for convenient parameter transfer and bending programs
Wireless connectivity with computers for software upgrades and data backups
Selectable axes: Y1, Y2, X, R, A1, A2, V
2D and 3D graphic display with manual bending program simulation
"EasyBend" page for effortless single-bend operations.

Netherlands Delem

Model Options: DA53T, DA58T, DA66T

10.1-15″ LCD TFT full-color display
"Quick Key" touchscreen navigation
Selectable axes: Y1, Y2, X, R, A1, A2, V
Deflection compensation control
USB external interface
Profile-53TL offline programming software.