Infrared Picosecond Laser Marking Machine for Stainless Steel Medical
The infrared picosecond laser marking & engraving machine uses laser beams to permanently mark various types of materials on their surfaces. The marking effect is achieved by evaporating surface materials to reveal deeper layers of materials, or by causing chemical and physical changes to the surface materials through the use of light energy to "engrave" traces, or by burning off some materials with light energy, to display etched patterns, texts, codes, and other types of graphics.
Pico-second Laser Engraver Machine
The pico laser machine can create color marking on titanium and black marking on anodized aluminum and stainless steel.
All device identifiers for medical devices, implants, tools, and instruments must be permanently, clearly and accurately marked. This characteristic is important for traceability and transparency of medical products and devices, ensuring that they can be properly tracked and identified throughout their lifecycle. Picosecond laser black marking is widely used in medical implants, surgical instruments and disposable. Therefore, the picosecond laser marking machine is an ideal tool for enhancing quality control, traceability, and safety in the medical industry.
Laser Source
GXP 1064 Picosecond Infrared Series Laser, with a simple interface, adopts an integrated design, featuring a simple structure and reliable performance. It has a narrow pulse width, high peak power, and is suitable for high-precision industrial applications.
Outstanding beam quality (M2 <1.2) supports PSO, Burst, and FFC modes in an integrated design. It has a compact structure and high long-term stability for 24/7 industrial use.
Scanning Mirror
ScanQuick3 λ=1064nm Digital Scanning Mirror
M-series high-speed scanning mirrors can carry a 10mm spot reflection mirror, with a maximum incident spot diameter of 10mm, used in optical scanning, laser marking, drilling, micro-processing, and the medical industrial sector.
This optical scanning system features fast speed, low drift, high positional accuracy, and reliable and stable operation. Its overall performance has reached a leading domestic level, mainly suitable for high-speed and online flight marking of fiber, CO2, UV, and other lasers.
Supports international XY2-100 standard protocols.
Lens λ=1064nm
F-theta scanning lens, also known as a field lens, flat field focusing lens, or linear lens. Its image height equals the focal length multiplied by the scanning angle (y=f *θ). Unlike typical focusing lenses that concentrate the beam at a single point, the scanning lens disperses the laser beam into multiple points over the scanning area or workpiece, creating uniformly sized and focused spots of light throughout the entire marking plane.
Control Software
Software Kernel: 32-bit or 64-bit.
Laser Support: CO2, YAG, FIBER, etc. It can adjust laser parameters such as current, pulse frequency, and duty cycle according to different laser specifications.
IO Control: Added port control functions to easily achieve automation (one input port, two output ports).
Multi-language Support: Built-in Chinese, English, Korean, Japanese, French, and German. You can easily localize it by translating the language pack.
Advantages of Infrared Picosecond Laser Marking System
The picosecond laser marking machine can replace the nanosecond UV laser marker, CO2 laser marker, fiber laser marker, and MOPA laser marker. The DPLASER picosecond laser marker has numerous advantages:
Stable Performance
Homemade seed source (40000hrs lifespan)
Proven solid-state amplifier technology
Import of core components
Powerful
All-in-one machine design
Burst pulse editing function
Support PSO function
Data monitoring and analysis
Power fast switching function
Low Maintenance Cost
Modular design, can be maintained separately
Quick after-sales response, on-site maintenance, low cost
Features:
Superior beam quality (M2<1.2), support PSO, Burst, FFC mode, integrated design, compact structure, high long-term working stability.
24/7 industrial application, GXP 1064 picosecond infrared series laser.
Integrated design, simple structure, reliable performance.
Narrow pulse width, high peak power, focus on micro-nano processing field.
The operation is simple and user-friendly, and the equipment has good stability; the special control software is compatible with Auto CAD, CorelDRAW, Photoshop and other software output.
Can receive various BMP, JPG, DXF, PLT, AI and other format files.
Automatically generate various serial numbers, production dates, barcodes, and QR codes.
Support flying marking and rotating marking.
Marking Glass – comparison of infrared picosecond and ultraviolet nanosecond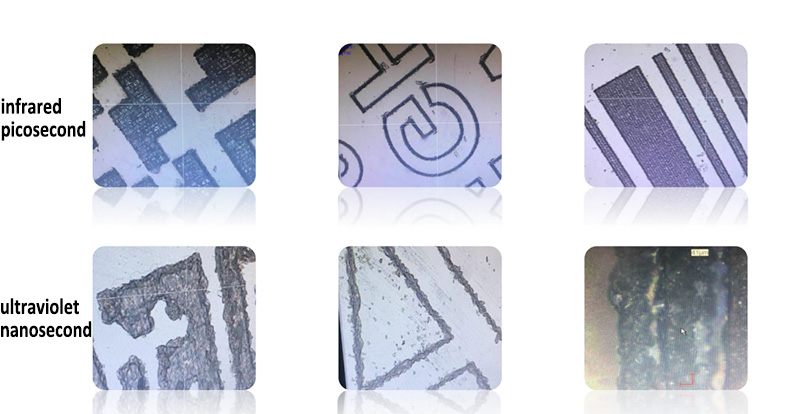 Picosecond Laser Marking Application:
The picosecond laser can mark a wide range of materials, including metal, plastic, and glass, enabling it to be used for a variety of medical applications.
Cutting and drilling of brittle materials, frosted glass surface (glass, sapphire and ceramics)
LCD, OLED screen cutting
Glassware marked scale – Home Appliance Industry
Blackening of battery cell, anti-electrolyte corrosion – New Energy Industry
Laser black marking on medical metal – Medical Equipment
Acrylic inner carving – Decoration
Jade deep carving, 3D relief carving – Crafts
Marking of wafers – Semiconductor
Aluminum oxide blackening – Metal Processing
Ceramic dial scale for smart watch – Smart Wearable
Infrared picosecond laser marking for black aluminum oxide – Food Packaging

Widely used in integrated circuit chips, moulds, microelectronics, industrial bearings, clocks, aerospace devices, auto parts, wires and cables, medical equipment, and many other fields of graphics and text marking, mass production line operations.