5W UV Laser Engraving Machine for Plastic Security Seal QR Code
Enclosed UV Laser Marking Machine is specifically designed for marking and engraving glass & plastic material. The machine is equipped UV light source that is effective in producing precise and permanent markings. The enclosed design of the machine enhances its safety and minimizes the risk of laser radiation exposure.
Its non-contact process, which creates minimal stress and damage to the surface. Its versatility and precision make it ideal for a wide range of industries, including automotive, electronic component, medical, and packaging. This 5W Fully surrounded UV laser marking system is the perfect solution for your security seal and plastic code marking.
UV Laser Engraver Features:
Excellent beam quality and very narrow pulse width
Thermal effect is very small when marking, the material is uneasy to deform
High reliability, stability and security
High-performance digital galvanometer scanner ensures the marking speed and precision
Visual location, auto-focus and rotating marking function is optional
UV Laser Marking & Engraving Machine Applications:
Electronic components, mobile chargers, electric wire and communication products.
Instrument appliance, hardware machinery, measuring tools.
Food, beverage and cosmetics industry.
Glass, crystal products, arts and crafts of surface and internal thin film etching, ceramic cutting or engraving.
polymer material, majority of the metal and non-metallic materials for surface processing and coating film processing.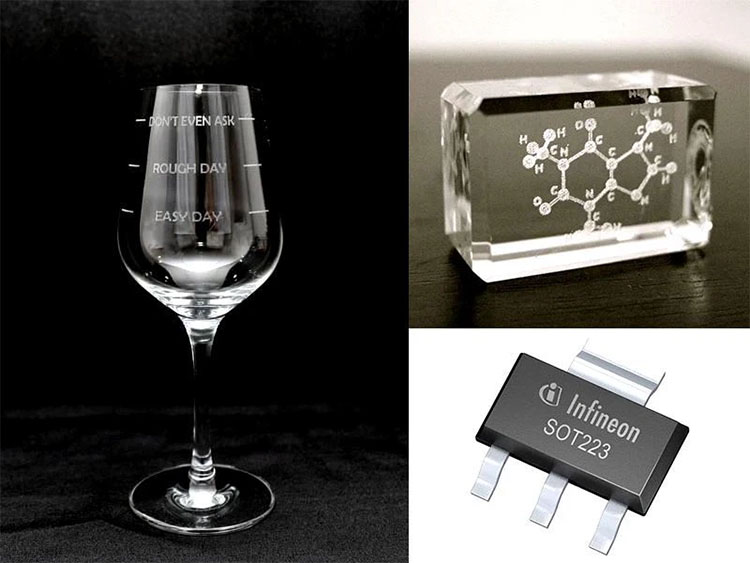 High speed Enclosed UV Laser Machine Marking Details: