Dual Head Hybrid Laser Cutter for Wood Acrylic
The laser cutting machine is equipped with a high-definition camera on top. Once the material is placed on the cutting table, the camera captures a photo of the entire work area and the printed pattern in a single shot. The software then generates a file based on the pattern's shape and size, allowing the laser heads to accurately cut along the pattern's outline.
After designing the cutting pattern, the software automatically typesetting, the material pattern closely fit, reduce the waste. The advanced variable speed system realizes that the laser can instantaneously change speed and self-adjust speed according to the needs of curves and straight lines in the cutting process, so that the cut edge is smooth and the corner curve is natural. This makes this CO2 laser engraving machine very suitable for curved, flat and other kinds of concave and convex surface materials.
Features:
With the characteristics of small cutting slit, fast speed and high precision, the accuracy and service life of the equipment are guaranteed.
Smooth running, fine and clean cutting.
With the characteristics of safe operation and simple maintenance, it can work continuously for 24 hours.
Cut fabric, the edges are not yellow, automatic hemming without loose edges and no deformation.
Can cut any complex shape, high efficiency, low cost, automatic graphic layout.
Humanized software operation interface, various patterns and text instant cutting, simple operation, flexible and convenient.
Advantages:
Big Working Space: The Pass Through Doors is designed for wide range of laser projects.
Control System: Connected to USB, Digital LCD display.
Support online/offline working, adjustable cutting speed and power.
Equipped control system for CorelDraw/AutoCAD and other advanced software.
Compatible with Windows.
CO2 laser cutting system can be applied to the following industries:
Shoe sample processing, shoe material hollowing and engraving.
Garment fabric cutting, garment accessories hollowing, punching, cutting edge.
Leather punching, sampling, cutting.
Plexiglass, plastic, fiberboard, PVC, paper, wood and bamboo cutting.
Wood and bamboo, ceramics, granite, shadow carving industry engraving.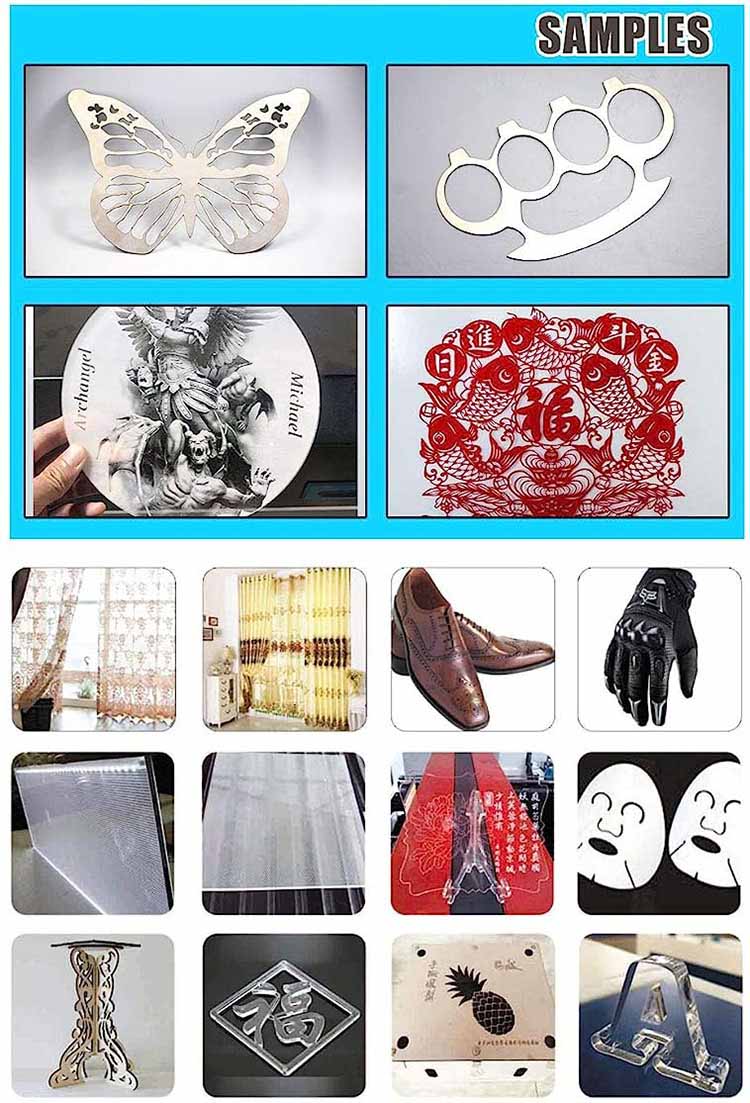 Please contact DPLASER for more information. Your response of following questions will help us recommend the most suitable machine.
1. What is your main processing requirement? cutting or engraving (marking) or welding?
2. What material do you need to process?
3. What is the size and thickness of the material?