CNC Press Brake Bending Machine for Profile Panel Bending 
Sheet metal CNC bending machine is designed for bending metal profiles and sheets. This machine uses advanced technology and automation to accurately bend metal sheets and profiles into specific shapes and angles. It is commonly used in various industries, including manufacturing, construction, and metalworking, to produce components and products that require precise bending of metal materials.
Sheet metal bending is the manufacturing method utilized to shape the majority of enclosures, electrical boxes, brackets, and components using a machining device referred to as a CNC press brake. CNC metal bending machines offer high precision, repeatability, and efficiency in metal sheet bending operations. With their advanced technology, these numerical control bending system can handle a wide range of sheet metal materials and thicknesses, providing flexibility and versatility in the bending process.
New CNC Metal Bender Features:
The MG series downward-driven electro-hydraulic CNC press brake is a mature technology with a well-established production structure, advanced operation, and stable system. It stands out as the most stable bending machine in varying production environments, boasting a refined design within its class. It offers three times the working efficiency of upward-driven machines, with a maximum bending speed of 25 cycles per minute and precision as high as ±0.05mm.
1. Structural Features
a. The machine frame consists of left and right side plates (side columns), a worktable, hydraulic cylinder, connecting beams, and more. Its integral structure ensures no inclination or deflection, guaranteeing precise bending. The side wall plates, intermediate connecting plates, and slide plates are all made of Q235 material, which is superior to welded frames.
b. The conventional CNC backgauge device comes in two configurations: two-axis (X, L) and three-axis (X, R, L). The L-axis controls horizontal movement in both forward and backward directions, the R-axis controls vertical movement in the up and down directions, and the A1 and A2 axes control two sets of backgauge fingers for horizontal movement in both left and right directions. The four-axis configuration demonstrates exceptional efficiency in handling frequent changes in sheet width and diagonal bending requirements.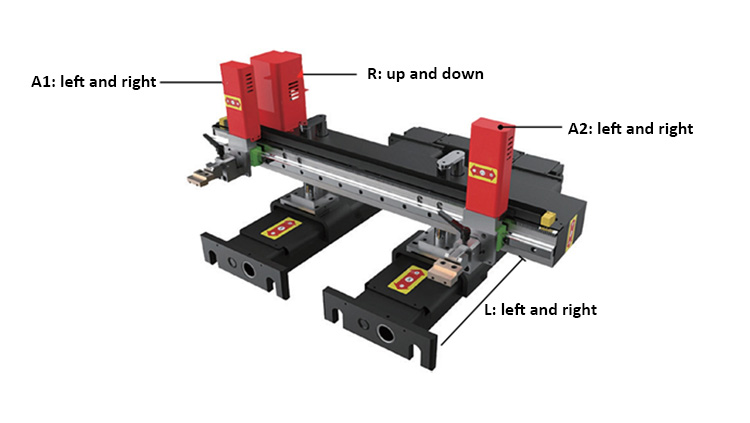 2. Electrical System
The electrical system of the MG series press brake comprises a distribution cabinet, the Rogs-NC9 dedicated CNC control system for press brakes, an oil pump motor, an operator station, a deflection compensation mechanism adjustment motor, sensors, limit switches, and other components.
a. The electrical control cabinet meets P54 protection standards, featuring standardized arrangement of electrical components with clear labeling. It utilizes internationally renowned brand components, ensuring safety, reliability, long lifespan, and strong resistance to interference.
b. Equipped with a mobile control station and movable footswitches, it facilitates convenient operation and includes an emergency stop function.
c. The equipment incorporates reliable electrical safety measures such as emergency stop and overload protection, ensuring the safety of operators and the dependable operation of the machine.
CNC System Features and Functions
Standard configuration Rogas-NC9

10-inch color TFT display
Resolution 800*600, 32-bit full touch operation
Memory capacity 4GB security PLC communication function
Full touch operation
Memory capacity 4GB
Safe PLC communication function