Fiber Laser Cutting Machine for Metal Sheet
Sheet metal laser cutting machine delivering precise and consistent cutting for metal, improve production and quality at the same time.
Product Details:
High-rigidity machine bed, exclusive high-temperature numerical control furnace annealing pro-cess, can guarantee the stability of the machine tool for a long time.
Imported original packaged fiber laser, good beam quality, stable performance, non-reflective lenses, no need to adjust the optical path, basic maintenance-free, the service life of up to more than 100,000 hours.
The fiber laser has high electro-optical conversion efficiency and conversion efficiency can reach 30%, which can greatly save power consumption during operation and has extremely low operating.
Cutting speed, operating costs are extremely low, rapid return on investment.
For a variety of metal sheet, mainly applies to stainless steel, carbon steel, galvanized sheet, electrolytic plate, brass plate, aluminum plate, manganese steel, various alloy plates, rare rapid cutting of metal and other materials.
Features of Fiber Laser Cutting Machine:
The heavy bed makes the metal sheet fiber laser cutting machine more stable in working;
The light crossbeam makes it work faster; perfect industrial design is more in line with man-machine engineering;
High quality electrical software control system gives equipment higher cutting precision;
The machine owns more comfortable operation, more stable performance, more durable quality;
Higher cutting efficiency and wider application scope.
Sample Display: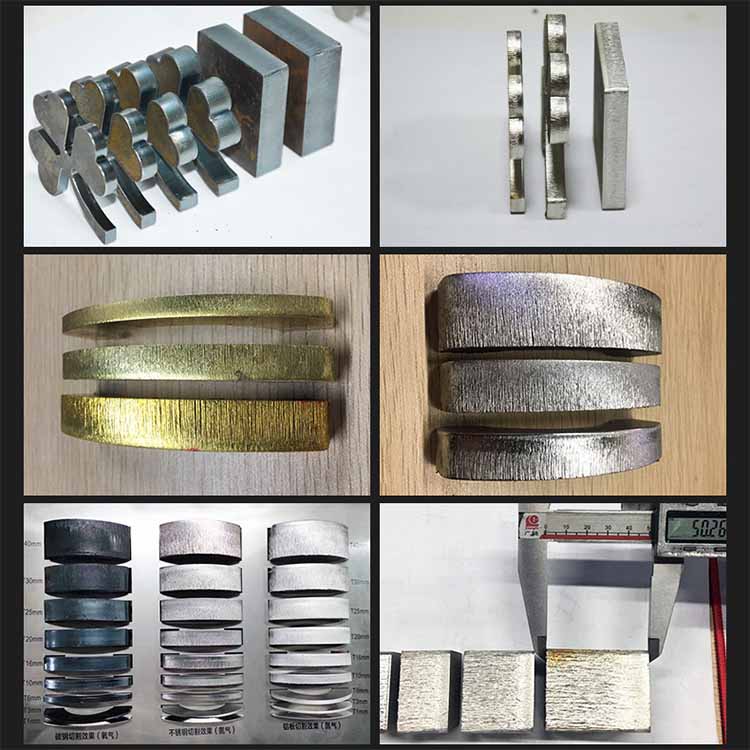 >>> Application
1. Application Industries: Widely used in manufacturing Billboard, Advertising, Signs, Signage, Metal Letters, LED Letters, Kitchen Ware, Advertising Letters, Sheet Metal Processing, Metals Components and Parts, Ironware, Racks & Cabinets Processing, Metal Crafts, Metal Art Ware, Elevator Panel Cutting, Hardware, Auto Parts, Glasses Frame, Electronic Parts, Nameplates, etc.
2. Application Materials: Suitable for metal cutting with Stainless Steel Sheet, Steel Plate, Carbon Steel Sheet, Alloy Steel Plate, Iron Plate, Galvanized Sheet, Aluminum Plate, Copper Sheet, Brass Sheet, Bronze Plate, Gold Plate, Silver Plate, Metal Sheet, Metal Plate, Tubes and Pipes, etc.