Open Type CNC Fiber Laser Cutting Machine for Sheet Metal
The fiber laser cutting machine is designed to precisely cut sheet metal using a fiber laser source. Its open design allows for easy loading and unloading of metal sheets. The machine is equipped with a CNC controller for accurate control of the cutting head, ensuring efficient and high-precision cutting of various sheet metal materials.
This high power fiber laser cutting machine is specifically engineered for processing a wide range of metal sheets, including but not limited to stainless steel, galvanized steel, carbon steel, aluminum, alloy, brass, bronze, iron, and copper. Its high power can cut and engrave various thicknesses, allowing for precision cutting of thin and thick metal materials. Whether dealing with intricate designs or bulk production, this metal fiber laser cutter offers consistent and accurate results across diverse metal types and thicknesses.
Product Details:
High-rigidity machine bed, exclusive high-temperature numerical control furnace annealing pro-cess, can guarantee the stability of the machine tool for a long time.
Imported original packaged fiber laser, good beam quality, stable performance, non-reflective lenses, no need to adjust the optical path, basic maintenance-free, the service life of up to more than 100,000 hours.
The fiber laser has high electro-optical conversion efficiency and conversion efficiency can reach 30%, which can greatly save power consumption during operation and has extremely low operating.
Cutting speed, operating costs are extremely low, rapid return on investment.
For a variety of metal sheet, mainly applies to stainless steel, carbon steel, galvanized sheet, electrolytic plate, brass plate, aluminum plate, manganese steel, various alloy plates, rare rapid cutting of metal and other materials.
Features:
Open type structure for easy loading and unloading.
Single working table saves floor space.
Drawer trays facilitate the collection and cleaning of small parts and scraps.
Gantry dual-drive configuration, high damping bed, good rigidity, high speed and high acceleration speed.
Sample Display: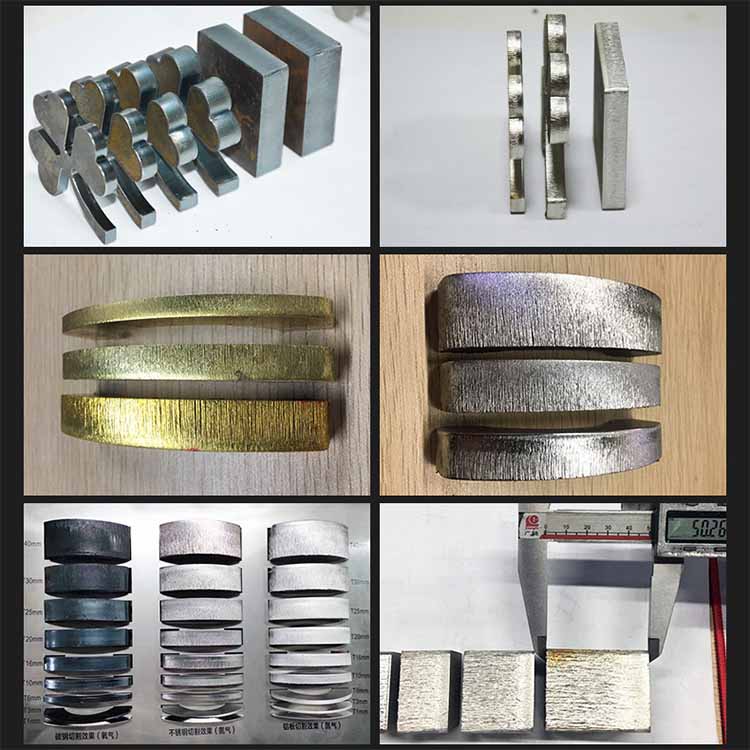 >>> Application
1. Application Industries: Widely used in manufacturing Precision Parts, Advertising, Aviation, Aerospace, Automobiles, Kitchen Ware, Advertising Letters, Sheet Metal Processing, Metals Components and Parts, Ironware, Racks & Cabinets Processing, Metal Crafts, Metal Art Ware, Elevator Panel Cutting, Hardware, Auto Parts, Glasses Frame, Electronic Parts, Nameplates, etc.
2. Application Materials: Suitable for metal cutting with Stainless Steel Sheet, Steel Plate, Carbon Steel Sheet, Alloy Steel Plate, Iron Plate, Galvanized Sheet, Aluminum Plate, Copper Sheet, Brass Sheet, Bronze Plate, Gold Plate, Silver Plate, Metal Sheet, Metal Plate, Tubes and Pipes, etc.