YAG Desktop Laser  Welding Machine for Jewelry Gold Silver Titanium Metal Rings Necklace
YAG laser spot welding machines are widely used in various industries, including jewelry manufacturing and repair. YAG laser welding machines offer several advantages that make them well-suited for tasks like repair welding, spot welding, splicing, inserting, and other intricate welding processes on different metals and alloys.
Compact Design: These machines are designed to be small and portable, allowing jewelers to place them on a workbench or desktop without requiring a large amount of space.
Micro Welding: The term "micro welding" refers to the extremely fine and precise welding capability of these machines. They can create welds on very small components, like prongs, settings, and delicate chains, without damaging nearby areas.
Minimal Heat Affected Zone: Laser welding generates minimal heat, which reduces the risk of distortion, discoloration, or damage to the surrounding materials. This is crucial when working with precious metals and gemstones that are sensitive to heat.
Adjustable Settings: The machine typically has adjustable power settings and beam sizes, allowing the operator to tailor the welding parameters to the specific task at hand.
Ease of Use: Despite their advanced technology, these machines are designed to be user-friendly and accessible for jewelers of varying skill levels.
Applications: Jewelry laser welding machines are used for various tasks, including repairing broken pieces, resizing rings, attaching clasps or findings, fixing prongs, and more.
Features
1. The heat affected zone is small, the welding spot size can be adjusted, the welding spot is flat and beautiful, and there is no need for excessive post-weld treatment.
2. Fast welding speed, high quality, non-polluting solder joints, precise positioning, no injuring of surrounding jewels during welding.
3. Compact, elegant, user-friendly design, ergonomic, long-term work is not fatigue.
4. The display uses a 7-inch LED screen, with Chinese, English, Russian, Spanish and other languages, with a blowing protection device.
5. CCD monitoring system can be installed on the basis of 10X microscope.
6. 24 hours continuous work, low power consumption.
7. Support personalized customization
Why Choose Air Cooling Laser Welder for Jewelry
1. Small Size.
2. High Cost Performance.
3. High Machining Accuracy.
4. Stable Performance.
5. Less Maintenance.
Application Materials
Jewelry spot welding machine can weld on different metal material, such as Gold, Silver, Platinum, Copper, Titanium, Stainless steel etc. and jewelry such as ring, earring bracelet, necklace, watch, dental welding etc.
Application Industries
Portable jewelry laser welding machine widely used in jewelry, hardware, medical instrument, electronic components, precision instrument, 3C communications, crafts and other industries.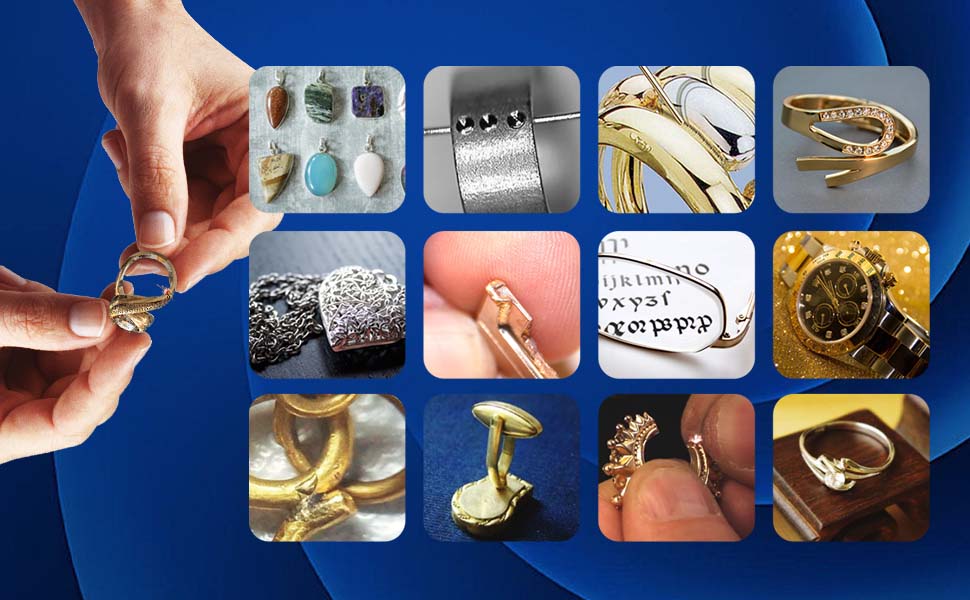 Product Packaging:
Mini jewelry laser welder machine with standard wooden cases with sponge filled inside for packing protection.