CNC Fiber Laser Cutting Machine for Tube & Pipe
The CNC fiber tube laser cutting machine is capable of high- speed cutting of rectangular tubes, square tubes, oval tubes, round tubes and profiles such as angle steel and channel steel. It features high speed, high precision, and cost- effectiveness.
The affordable fiber laser cutting machine for metal tube pipe is expertly designed for a diverse range of industries and applications. It excels in metal processing, machinery manufacturing, auto parts manufacturing, electrical manufacturing, elevator manufacturing, petroleum machinery, food machinery, decorative advertising, and much more.
Fiber laser tube cutting machine provides exceptional versatility, capable of working with a wide range of materials including carbon steel, stainless steel, aluminum alloy, brass, copper, galvanized pipe, silicon steel tube, electrolytic pipe, titanium alloy, manganese alloy, etc.. It effortlessly handles various shapes and sizes of metal tubes, accommodating diverse project requirements.
Horizontal structure for stable operation and high precision
Intelligent cutting software for smart cutting capabilities
Imported servo motors for improved cutting speed
Equipped with automatic material unloading and scrap collection system for large-scale production
Highly integrated machine with excellent system performance and long service Life, with automatic lubrication
High level of automation, strong anti- interference capability, and fast dynamic response speed
Centralized operation for flexible processing, automatic material unloading, and convenient pneumatic chuck clamping
Easy maintenance and minimal maintenance requirements
Utilizes professional laser tube cutting software with core technology for efficient cutting, ensuring material savings and improved cutting efficiency.
To cut H- beams and channel steel, it is necessary to use professional nesting software and a 3D bevel cutting head.
Chuck:

Lasers: Raycus/MAX/BWT

Superior beam quality
Maintenance-free operation
Constant over the entire power range
Modular "plug and play" design
Large working area, small focal length
Compact, robust and easy to install
Efficiency > 30%
Integrated coupler or beam switch option

Laser Cutting Head: Osprey

The internal structure of the laser head is completely sealed, effectively preventing dust contamination of optical components.
The laser head utilizes a two-point alignment adjustment and a focus collimator adjustment method. It is driven by an imported motor.
The protective lens is installed in a drawer-style fashion, making replacement convenient.
With a modular design, high precision, and easy maintenance, this cutting head offers efficient and user-friendly operation.

Servo Drive

Utilizing a bus control method to ensure precise positioning and optimal dynamic response, this guarantees smooth and reliable operation of the automatic positioning mechanism with minimal maintenance. High-power motors drive the X, Y, and Z axes.

Transmission Components

Fast speed, high precision, and strong reliability ensure long and stable operation. Higher speeds with lower noise levels guarantee high accuracy and extended lifespan.

Servo Feeding Device

Servo-controlled material feeding and clamping for cutting, reducing material pulling, and improving efficiency. A single cutting stroke can reach up to 1.2 meters.

Laser Cutting System

FSCUT3000DE is a control system developed for the processing of pipes, supporting high-precision and high-efficiency cutting of square tubes, round tubes, elongated tubes, oval tubes, as well as angle steel and channel steel.

Laser Cutting Power Head

Independently developed for high precision, the power head undergoes multiple tests to quickly clamp and enhance work efficiency. The clamping force is stable, reliable, and adjustable, allowing for fast cutting speeds and excellent accuracy. It is worry-free for cutting profiles, making it widely applicable to both batch and single-item processing enterprises.

Laser Chiller

Utilizing water cooling for efficient heat dissipation, it enables low heat emission indoors.
Equipped with an efficient plate heat exchanger and patented anti-freezing technology for plate heat exchangers.
Various temperature control precision options are available, including ±0.1℃/±1.0℃/±2.5℃, with water circuit system and refrigeration system pressure indicators.
Compact in size, easy to operate, energy-efficient, stable in performance, and quality assured.
Automatic Loading and Unloading System(Optional)
Intelligent sorting, efficient feeding
Saving labor cost and improving working efficiency.
Semi- automatic Standard Type
Available with: E6012R,E6012KJ,E6016R,E6022R,E6012,E6022KJ,E6023KF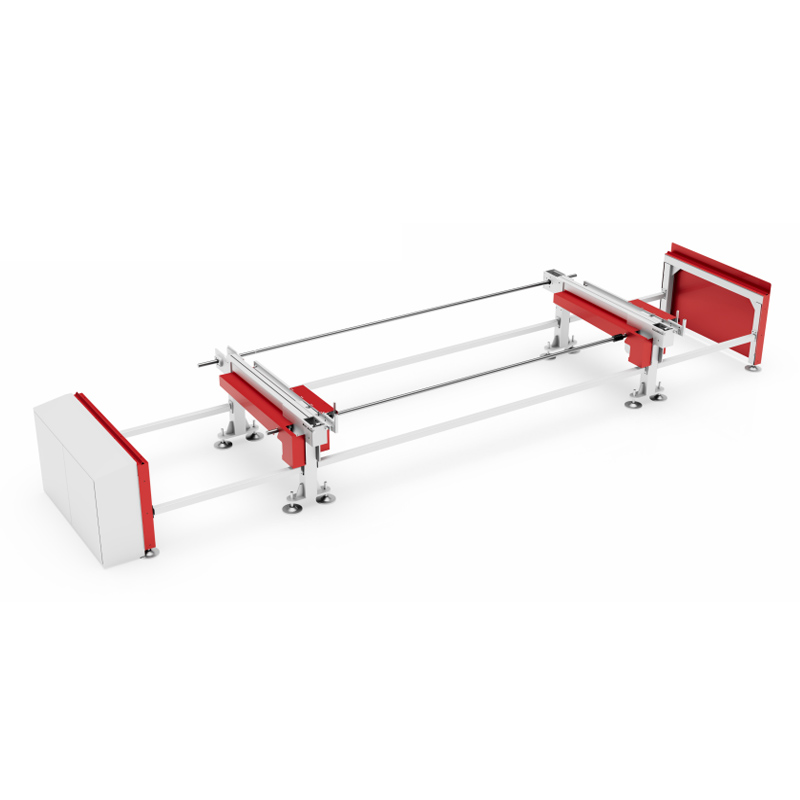 Fully Automatic Feeding Machine
2-grip 6m tube
Square tube 20mm-170mm
Rectangular 20mm-170mm
Round tube 20mm-150mm
Max. loading weight 3 tons
Feedable single tube load up to 90KG
The load can be increased by 45KG for each additional grip
Available with: E6012R,E6012KJ,E6016R,E6022R,E6012,E6022KJ,E6023KF

For more details, welcome to feel free to contact us!