Automatic Fiber Laser Welding Machine
Desktop automatic laser welding machine for stainless steel,aluminum,zinc, widely used in automobiles, machinery manufacturing, medical equipment, ships, chemical industry, aviation, power batteries and other industries are widely used.
1. Using special welding software, it has more stability and simpler software operation, which meets the requirements of large strokes and welding requirements for complex products.
2. High production efficiency, welding speed, automatic mass production
3. Solderable, straight, round, oval, square and other shape.
4. For welding inaccessible parts, the implementation of non-contact long-distance welding, with greater flexibility.
Optional Laser Power:
500W/750W/800W/1000W/1500/2000W/2200W/3000W/4000W/6000W
Feature of Automatic  Fiber Laser Welding Machine:
★High energy density, low heat input, small thermal deformation
★The cooling rate is high so that the microstructure of the weld can be obtained, and the joint performance is good
★Compared with contact welding, laser welding does not use electrodes, which reduces the cost of daily maintenance cost, greatly improving work efficiency
★Fully automatically or semi automatic welding with arbitrary trajectories such as points, straight lines, and arcs
★Thin welding seam, large penetration depth, small taper, high precision, smooth and flat appearance
★No consumables, small size, flexible processing, low operation and maintenance costs
★Laser is transmitted through optical fiber, which can work with assembly line or manipulator
★ISO 9001:2015, CE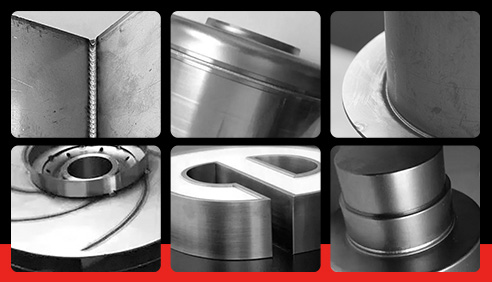 Applicable Field:
For stainless steel,die steel,nickel,zinc,aluminum, widely used in jewellery, bracelet laser welding, aerospace equipement, shipbuilding, instrumentation, mechanical and electrical products, automobile manufacturing and other industries.