Large Format 3D Dynamic Focusing CO2 Laser Engraving Machine
The large format three dimensional CO2 laser marking machine adopts a fully automatic left and right movable workbench to realize laser marking, loading and unloading simultaneously, which greatly saves labor and improves work efficiency. At the same time, the laser marking system can realize electric lifting mode to achieve different processing effects. The design of the whole machine adopts a fully enclosed laser protection scheme that meets international safety standards. It can be used for engraving or cutting paperboard.
Feature of Dynamic Focus Laser Marking Machine:
Large Format Marking Area: This machine has a large marking area, which allows it to mark or engrave larger workpieces or multiple smaller ones at once.

3D Dynamic Marking: The machine can provide 3D marking capabilities, which allows for the creation of more intricate designs or markings that would not be possible with traditional 2D marking.

High-Speed Marking: The machine is capable of high-speed marking, which enables it to process multiple workpieces in a short amount of time, making it an efficient option for production lines.

Precise Marking: The machine uses high-precision optics and a precise positioning system to ensure accurate marking or engraving of the intended design or text.

Non-Contact Processing: The CO₂ laser beam used by the machine allows for non-contact marking or engraving, eliminating the need for physical contact with the workpiece.

Suitable for engraving on various materials.long time preserve.simple installation and convenient.

The optical system is fully sealed,it can prevent the dust entering laser body and reduce the equipment failure rate.
Configuration:
High-speed Dynamic Scanner
It is composed of X-Y optical scanning head, electronic drive amplifier and optical mirror. The signal provided by the controller drives the optical scanning head through the driving amplifier circuit, so as to control the deflection of the laser beam on the X-Y plane.
Water Chiller
For cooling laser tube and keeping it long time working.
CO2 Laser Tube
Excellent beam quality makes for a wide range of materials processing applications.
Big Worktable
Handwheel control the working table up and down. A wide range of tables can support larger workpieces.
Application:
Applications of the 3D dynamic large format CO₂ laser cutter in cardboard processing are diverse, including custom packaging, artistic displays, cardboard engineering, and rapid prototyping. Its ability to create complex and detailed designs on cardboard materials opens up new possibilities for creative and innovative cardboard-based products.
In conclusion, the 3D dynamic large format laser cutting machine represents a significant advancement in cardboard applications, revolutionizing the way cardboard is processed and elevating the possibilities for customizing, designing, and manufacturing cardboard-based products with precision and efficiency.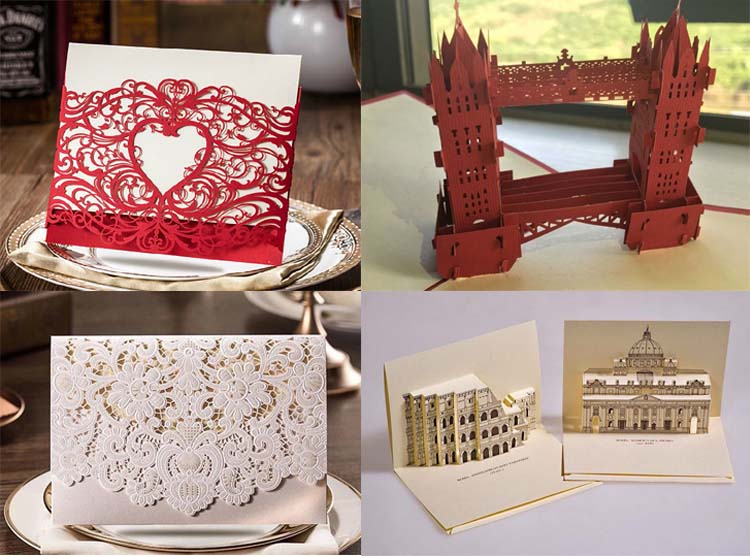 Applicable Industries:
Widely used in leather, food, beverage, cloth, electronic, crafts, communication instruments, package and other industries
Applicable Materials:
Leather, cloth, paper, acrylic, crystal, ceramics, rubber, wood, bamboo, organic glass, plastic, marble, jade, composite materials and other non-metallic materials.