Desktop Split YLP/CO2/UV Laser Marking Engaver Machine
Desktop laser marking machine is a safety and environmental protection by a non-mechanical "light knife", which can print marks on any regular or irregular surface, and the workpiece will not generate internal stress after marking to ensure the original precision of the workpiece. No corrosion, no wear, no poison, no pollution.
Features:
High-speed scanning galvanometer system, stable output power, good optical mode, excellent beam quality
High marking precision, fast speed, free control of engraving depth;
High laser power, suitable for engraving and cutting of various non-metallic products;
No consumables, low processing cost, and the operating life of the laser is as high as 20,000-30,000 hours;
Permanent labeling, not easy to wear, high engraving and cutting efficiency, environmental protection and energy saving;
Support PLT, PCX, DXF, BMP, JPGE, etc., and can directly use SHX and TTF fonts;
Support automatic coding, printing serial number, batch number, date, barcode, QR code etc.;
Powerful graphics drawing and editing functions, it can mark the color pictures, and can also mark the color pictures after grayscale conversion.
What is the Difference Between Fiber vs. CO2 vs. UV Engraving Machine?
Fiber laser welder can quickly label the widest range of materials, has the greatest contrast on metals. Its high power makes them perfect for annealing and engraving applications. However, fiber lasers cannot mark transparent materials.
Applications: for high-speed marking on metal and plastic parts, such as aluminum blank, brass, copper, precious, stainless steel, steel, titanium, gold, plastics, polyamide (PA) , polycarbonate (PC) , leather, etc.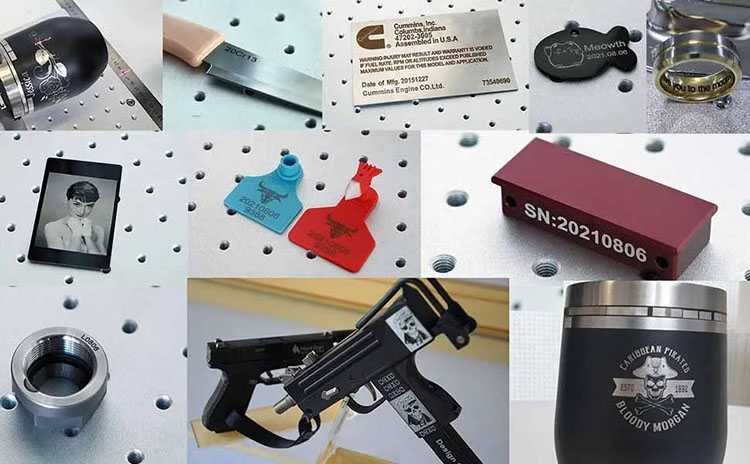 CO2 lasers burn targets with heat, making them ideal for marking paper, resins, wood, rubber and transparent materials. (like glass and PET)
Applications: Wood, paper and cardboard, plastics and acrylic, leather, fabric, and other non metallic materials
The UV laser provides maximum contrast on the resin. Ultraviolet lasers have the advantage of creating non-damaging markers. It can be used for ultra-fine marking and special material marking.
Applications: Marking and slicing of flexible PCB,silicon wafer micro-hole,blind hole processing,LCD glass qr code,glassware surface punching,metal surface coating,plastic keys,electronic components,gifts,communication equipement.