200W 400W 600W Desktop Laser Spot Welding Machine with Magnifier for Jewelry Gold Silver Metal Bracelet Earrings Necklace Ring
The desktop laser welding machine for jewelry adopts ergonomic design, stable performance and can fully work 24 hours. Large internal space, suitable for placing laser spot welding tools and fixtures. This desktop laser welding machine is perfectly suited for jewelers.
Features of Desktop Jewelry Laser Welding Machine:
1. Precision welding: The machine offers high precision and control, allowing jewelers to create strong and durable welds on small and delicate jewelry components.
2. Versatility: It can be used to weld various metals commonly used in jewelry, such as gold, silver, platinum, and stainless steel.
3. Compact size: The desktop design makes the machine portable and suitable for small jewelry workshops or studios.
4. Adjustable parameters: The machine allows fine-tuning of welding parameters such as power, pulse duration, and spot size, enabling customization for different jewelry pieces.
5. Non-contact welding: Laser welding is a non-contact process, which minimizes the risk of damage or distortion to heat-sensitive gemstones or delicate jewelry elements.
6. Efficiency and speed: The laser spot welding machine can perform rapid welds, reducing production time and increasing productivity.
7. Ease of use: With user-friendly interfaces and intuitive controls, jewelers can quickly learn and operate the machine.
8. Cost-effective: Investing in a desktop laser spot welding machine can provide long-term cost savings compared to traditional welding methods, as it reduces the need for additional soldering materials and labor-intensive processes.
Desktop Jewelry Laser Welding Machine Advantages:
1. Good safety, protect eyes.
2. Powerful anti-jamming performance.
3. Easy and convenient operation.
4. High stability.
5. Microscope system ensure the precise welding.
6. The protective gas controlled by program ensure the quality of the welding.
7. Adopt ceramic laser cavity, high laser beam reflectivity, high optic-electric transferring efficiency.
8. The optimum welding spot has symmetrical energy distribution.
9. Fast welding speed, deeper melts pool, less distortion.
10. Tight welding spot, easy to operate, no maintain, no need fllng material.
What is CCD visual monitoring system?
CCD is a monitor installed beside the touch screen, showing enlarged welding track when welding, helps to observe and correct welding timely.
Features:
1. Jewelry laser welder is high precision (0.1-3mm spot size)welding methold and thin laser beam.
2. Laser is quick, Frequency can reach 20HZ.
3. It is suitable for industries requiring fine and beautiful welding, such as jewelry, spectacle frames, molds, and dentistry.
4. Jewelry Laser welding machine is widely used in all kinds of metal like gold, sillver, bronze, aluminum, steel and titanium.
5. We manufacture power supply which have big advantage in prices and after sale service.
6. Engineer door-to-door service.
Applications:
Application Material: for welding Steel, Plain Carbon Steel, Alloy Steel, Stainless Steel, Titanium, Nickel, Tin, Copper, Aluminum, Niobium, Gold, Silver  and so on.
Application Industries: the Arts and Crafts and Jewels, and Electronic Components, Sensor Appearance, Precision Metals, Hardware, Spare Parts for Car, etc.
Sample of Laser Jewelry Welder:
Jewelry laser welder is specifically designed for spot welding, perforating, repairing, retipping and resizing of gold/silver/titanium/platinum jewelries, jewelry, glasses frame, mould and gap bridging of small accessories.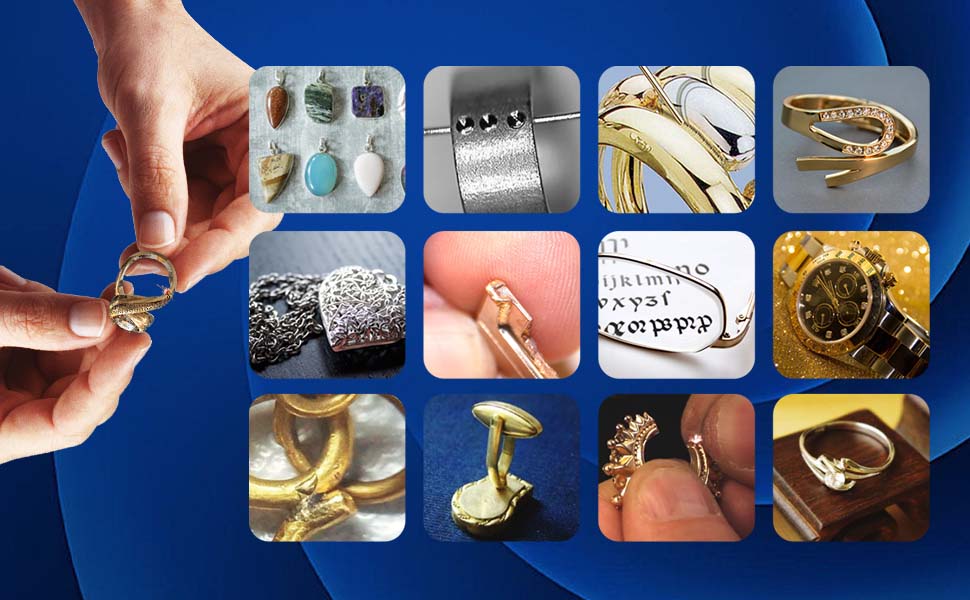 Why Choose DP Laser as Your Jewelry Welding Machine Supplier?
1. We are the top laser equipment manufacturer in China and support 100% custom.
2. Our products have been exported to Germany, Poland, Spain, UK, France, Russia, Brazil, Mexico, Australia, Japan, Korea, Thailand, Indonesia and many other countries.
3. Lifelong professional technical service
4. Good after-sale service.
5. High quality laser equiment at competitive price in fast delivery.